Since 1970 when it was first officially celebrated, Earth Day has become one of the most prolific world-wide events to promote environmental conservation. Finding ways to celebrate Earth Day in the Finger Lakes is pretty easy, because our region is packed with nature! Getting out and going for a walk in the woods is great, but there's so many other ways to get involved.
This of course is by no means a complete list. Finding an exhaustive list in the Finger Lakes would make this an entire book! Instead, we tried to collect a few ideas that maybe weren't already on your radar.
Hopefully there's a few things listed here to inspire you this April while you're looking to celebrate Earth Day!
Learn Something New
One of the key tenets of Naturally Green's mission is education. The better we are at understanding the world around us, the better we'll be at preserving it.
There's a number of museums and learning centers around the Finger Lakes dedicated to nature and the environment. Plan a trip around visiting at least one of them on Earth Day, and check ahead because they might even have a special event planned!
Cayuga Nature Center – Ithaca
The Cayuga Nature Center has some great outdoor activities including a six-story treehouse and live animal exhibits. If it happens to be raining, there's still plenty to see inside like turtles and snakes.
Museum of the Earth – Ithaca
The Museum of the Earth is a good option if our April weather isn't cooperating. This indoor museum is filled with interactive exhibits that tell stories of our planet's history. This is a great one for all ages!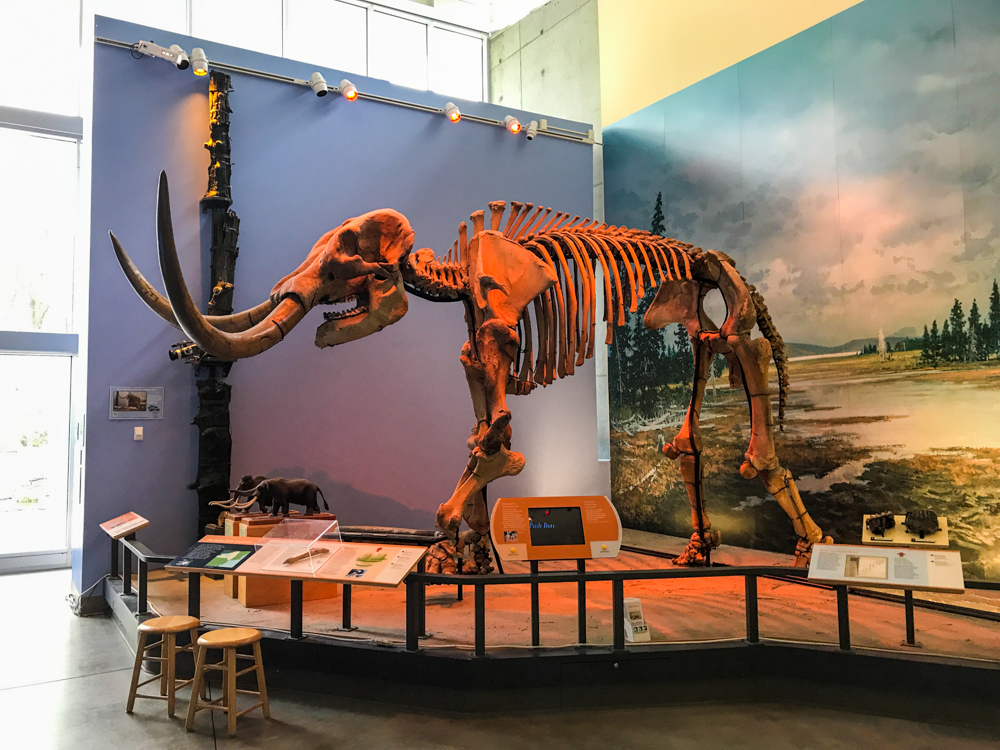 Cumming Nature Center – Naples
The Rochester Museum and Science Center in Rochester owns the Cumming Nature Center in Naples. They've got a lot of great educational programming and a small visitor center with some exhibits. Around their visitor center they've also got some great trails for walking.
Even More…
Though we're not hosting any right on Earth Day, we've got some classes in April you can checkout! Visit our classes page to see the upcoming workshops we're hosting or our helpful links page to find other places to learn. We've also got a glossary to help you tune up some of your knowledge!
Eat Local Food
The way we produce and consume food makes a huge impact on our environmental health. There's a long list of amazing producers of maple products, wines, honey, and livestock in the Finger Lakes to support. If you're going to be out and planning things to celebrate Earth Day in the Finger Lakes, make sure you plan to eat!
Many local producers in our area recognize the importance of environmental stewardship. They incorporate a lot of best practices into their work. Here's just a few stops you'll enjoy while you're out and about.
Honey Bee Embassy – Trumansburg
Anyone with even a casual understanding of our local ecology knows how important bees are. You can visit the folks at the Honey Bee Embassy in Trumansburg to celebrate the bees! Taste their locally harvested honey with some tea on the back deck looking out into the pasture. It's just about as peaceful as you can get.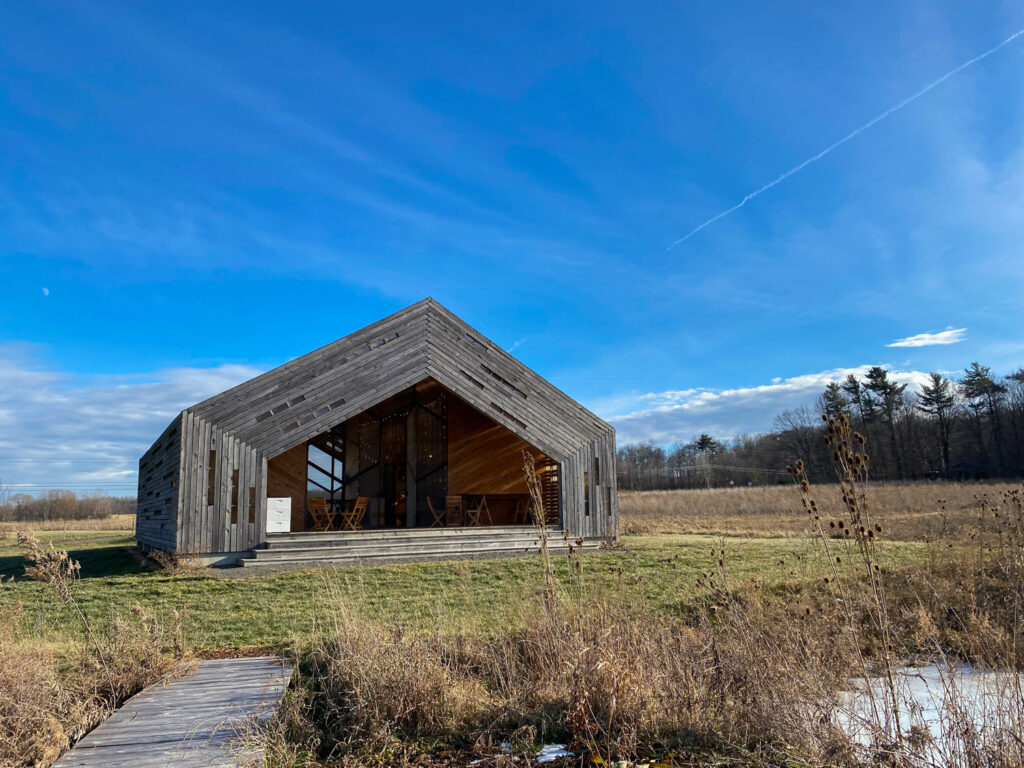 Hunt Country Vineyards – Branchport
The folks at Hunt Country Vineyards take their responsibility of environmental conservation very seriously. These folks are actively engaged in discussions about climate and have even won awards for their efforts. Operations at the winery include geo-thermal climate control in the tasting rooms, solar-powered electric, and electric vehicle chargers.
The Park Inn – Hammondsport
If you're looking to wrap up your Earth Day celebrations with a great dinner, The Park Inn located in the village of Hammondsport will hit the spot. They are focused on an ever-changing unique menu, but many of the items they serve were grown and harvested locally on their own farm. Chef Dan Eaton is often in the fields harvesting the same produce he'll be serving when he's back in the kitchen that night!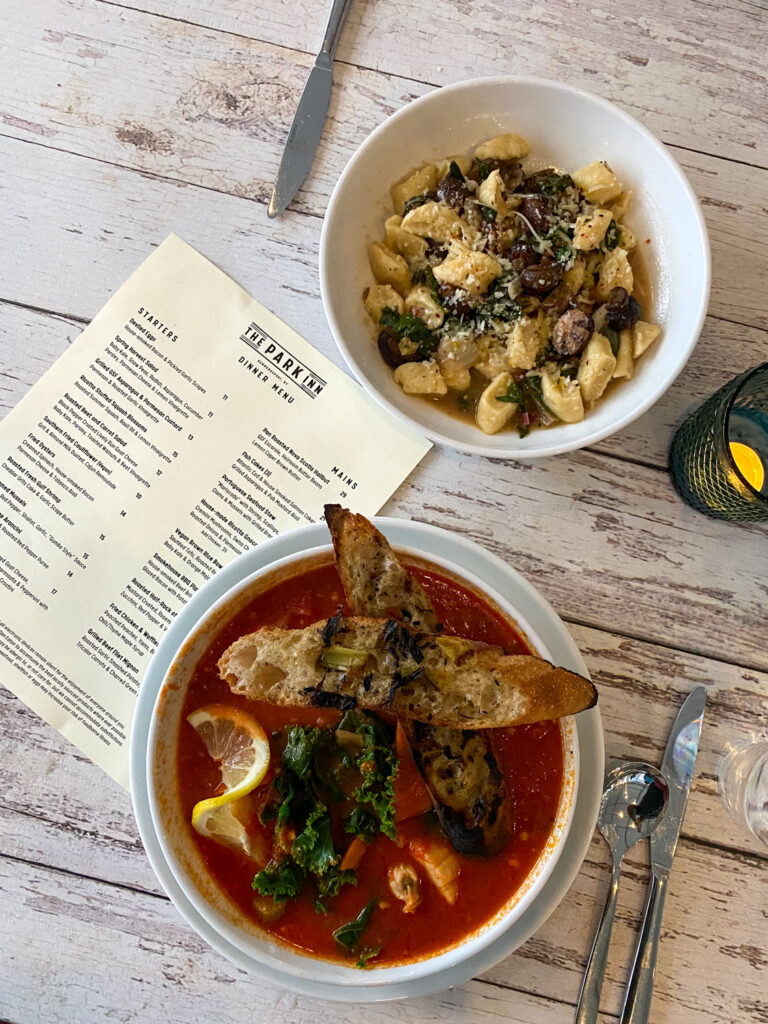 Even More…
Consider purchasing locally produced food products that you can use at home. Farmer Ground Flour creates fresh, stone-ground flours from products grown right in the Finger Lakes. Mesmer Bees in Pittsford harvests raw honey from a few fields in Monroe County. Bostrom Farms just east of Canandaigua butchers and sells meats only raised near their shop. When you shop at small, locally owned producers for your food, not only does it help promote the local economy, but it often supports a more eco-friendly, sustainable method of agriculture.
Take A Nature Walk
Sure it may still be a little muddy in some spots, but getting out for a walk on Earth Day is a great way to see spring unfold. You can find trails ranging from easy and wheelchair accessible to trails that require a rope to scale the gorge. There's a lot of options in the Finger Lakes for walking outside.
Unless it's totally down pouring rain, consider a little hike!
Ludovico Sculpture Trail – Seneca Falls
Along the edge of the waterway that feeds Van Cleef Lake is a really easy trail fit for anyone. The Ludovico Sculpture Trail is wide and flat, and features art sculptures all along the way!
Rob's Trail – Springwater
If you're looking for a bit more challenge, Rob's Trail will do the trick. From Old Bald Hill Rd S in Springwater you can take a trail downhill to either Hemlock or to Canadice lakes. That of course means it's uphill the whole way back, but the well-maintained trails are some of the most beautiful you'll find in the region.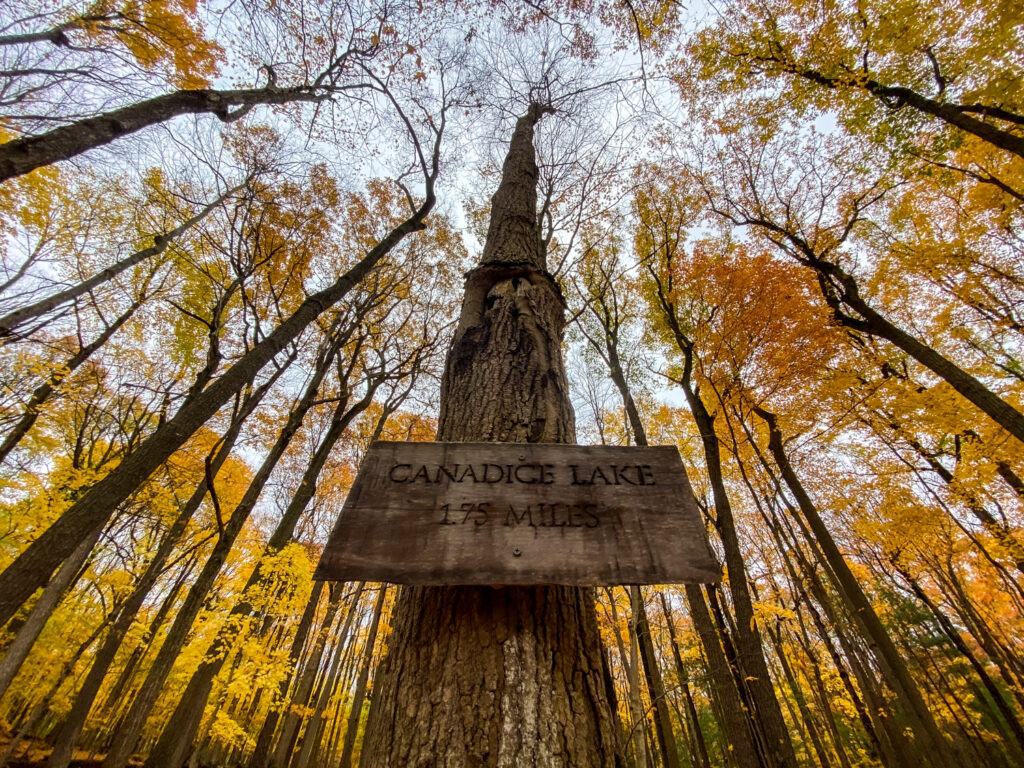 Bishop Nature Preserve
The Finger Lakes Land Trust owns and operates this small preserve just east of downtown Geneva. Bishop Nature Preserve is an easy, couple-mile walk through a really nice wooded area. Should you want a longer walk, it connects right to the Cayuga-Seneca Canal Trail which will give you a few more miles of ground to cover.
Even More…
You probably already know there's a ton of great trails scattered throughout the region. Even if you just want an easy walk in the fresh air, you can saunter through Kershaw Park at the north end of Canandaigua Lake. You could even take an "urban walk" and see all of the stops in the Sagan Planet Walk in Ithaca.
Wherever you go, just get outside and move around!
More Way To Celebrate Earth Day In The Finger Lakes
Whether you live in the middle of downtown Rochester or a rural town an hour from the nearest Wegmans, there's a ton of ways to help preserve our planet. By learning more about your own carbon footprint and finding ways to make even small adjustments to your lifestyle, you have the power to make an impact on our region.
The Finger Lakes Region isn't just home to the people who live here. This region is now a global brand grown from the rich soil that supports the agricultural industry, that is known nationally as a premiere wine-producing region, and that people travel from all over to experience. The future of the region depends on our efforts to be to preserve and promote the biodiversity and majesty of the area for future generations.
Whatever you plan to do this April, find a way to celebrate Earth Day in the Finger Lakes!